What to do on New Year's Eve if you have kids? It's a question I'm asked a lot so I decided to do a little research and answer it.
I have put together a list of child-friendly events happening across North East England on 31 December that will help you to see the New Year in with style.
Let me know what you're up to in the comments or if you spot any other events for me to add.
It is super important that you check details with organisers direct both when making plans and before heading out as information can change and as we all know, cancellations and event changes are very possible.
New Year's Eve Family Event in the Pemberton Carvery at Ramside Hall

Here's what they say:

Join us in Pemberton's Carvery to celebrate New Year


Adults £37.95 per person | Children £29.95 12 years & under
Food is served from 7.00pm until 10.00pm.
Be entertained by our resident disco until 2.00am
Find out more and book here
New Year's Eve Family Event in the Clubhouse at Ramside Hall

Here's what they say:


Join us in the Clubhouse to welcome in 2021 with your family and friends.
Adults £36.95 per person | Children £29.95 12 years & under
Arrival drink
Luxury 2 course buffet
Live entertainment
Resident DJ
Find out more and book here
Seven Stories End of Year Party


Credit : Seven Stories
Here's what they say:
Friday 31 December, 11am
Say goodbye to 2021 and welcome 2022 by exploring how New Year is celebrated around the world. Learn all about customs and traditions designed to bring good fortune in the year ahead, enjoy themed crafts and games, and don't forget your dancing shoes!


This event is suitable for all the family. Tickets are £7.50 per person (adults and children). Babies under 12 months go free.

FInd out more and book here.
New Year's Eve at Trencher's Spanish City
Here's what they say:
Whether you're dining with your family or celebrating with friends, Trenchers offers something for everyone on New Year's Eve. In our first sitting, we'll have a fun-filled family celebration with live children's entertainers. Later in the evening, guests will be treated to live music on our grand piano and a table magician.
Family-friendly dining
5pm -7pm
Adults & older children (12+)
8pm – late
(last orders 10pm)
On this evening we will have a special set menu, two courses: £22.00 and three courses: £26.00, as well as our award-winning À La Carte and Children's Menus.
Find out more, view the menu and book here
New Year's Eve Family Party Night at Holiday Inn Washington
Here's what they say:



Welcome 2022 with all of the family! Enjoy a drink on arrival, a delicious dinner followed by children's party games before welcoming the new year in together.`
Find out more and book here
Newcastle New Year's Eve Fireworks & Laser Show (Free with no booking required)
Here's what they say:
This New Year will see a stunning laser lights fill the night skies across the city. The council, NE1 and BAFTA award-winning artist Seb Lee-Delisle are working together to bring an interactive laser installation from 30 December to 1 January.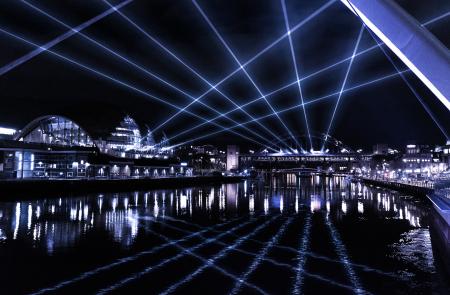 Credit : Newcastle NE1
The dramatic installation will light up the night skies across the city and its suburbs heralding in the New Year.
The high-powered lasers will be installed at three key locations across the city; the Quayside, Hadrian's Tower and the Civic Centre, making them visible to people within a ten-mile radius of the city centre, weather permitting.
The public will be able to take turns to curate the laser light show from their smart phones via the Laser Light website that will be going live nearer the time, details can be found at www.laserlight.city/newcastle.


Rounding off 2021 will be a double fireworks extravaganza on the Quayside on December 31.
What's become a tradition in Newcastle, the spectacular shows will take place on New Year's Eve at 6pm to suit families then a second show at midnight. People are advised to get there early to grab a good vantage point.
Listen to live music and enjoy the spectacle as we say goodbye to 2021 and start 2022 with a bang!
Find out more here
`
Sunderland New Year's Eve Fireworks (FREE event with no booking required)


Here's what they say:

Sparkling new celebration event set to welcome in 2022 for families


A DAZZLING display of fireworks will light up the Sunderland skyline as the city prepares to welcome in 2022, in a new family-friendly event this New Year's Eve.


Riverside Sunderland will play host to a spectacular 15-minute aerial display, with live on-stage entertainment, on-street activity and a food and drink offer around Riverside Sunderland and Keel Square as part of a family-focused celebration to see in the new year.

And with a family-friendly 6pm start, the event will see Metro Radio broadcast live from the city centre, providing a boost to businesses by attracting more people into the heart of the city for the final evening of 2021.

Find out more here
New Year's Eve Family Party at Let There Be Crumbs
What they say:
Family-friendly evening from 7pm - 2am with a buffet of delicious Crumbs favourites, where your little ones can be entertained! PLUS a disco for a real Party Atmosphere.
Child: £18.50
Adult: £29.50
Find out more & book here
New Year's Eve Family Party at George Washington Hotel
What they say:


Celebrate together as a family this year and enjoy a delicious three-course dinner for the adults, whilst our younger guests indulge in their very own buffet, our resident Dj will keep everyone entertained before welcoming in the new year.
£55 per adult & Children over 14 | £40 for Children 8 -14 | £20 for Children 3-8 | Children under 3 free
Please call us on 0191 402 9988 or email christmasandevents@georgewashington.co.uk for more details or to book.
Find out more here
Family New Year's Eve Party at Gosforth Civic Theatre
Credit : Gosforth Civic Theatre
What they say:

Choose either 12noon-2pm or 4pm-6pm


Our DJ will be spinning tunes for big ones and little ones alike, our craft room and kids snacks will keep to littler ones busy while the adults can take advantage of our bar to celebrate in style. It all culminates in a "midnight moment" where we count down to the New Year on our big screen!


Find out more and book here
New Year's Eve at Family Party at DoubleTree by Hilton (Newcastle Airport)
What they say:
Join us with your nearest and dearest to ring in the New Year!

​

Welcome in 2021
with a fun filled family night in our Holly Suite! With party games, a mini disco from 7pm for the kids and a DJ to keep you dancing til late, there's family fun for everyone!

​

There's also unlimited soft drinks for kids and a wide selection of delicious buffet dishes.

​

£49 per adult

£25 per child (aged 14 and under)
Find out more and book here
New Year's Eve Family Party at Blue Flames Sporting Club

Here's what they say:


Let's face it, we have all had limited fun over the last 18 months and no doubt a lot of us will be happy to say GOODBYE 2021!!

This year we hope to be able to offer you the chance to get together with your loved ones for a FAMILY PARTY at Blue Flames. We will keep the kids entertained with the Bouncy Castle and Football Courts open. The DJ will entertain with some games along with prizes for the kids. That leaves the adults able to enjoy and relax with a dance, a bite to eat and a few drinks from the bar!!
Find out more & buy tickets here
(last time I checked, this had sold out but there may be some returns / cancellations so do check)

Ice Skating


Petite Street Role Play New Year's Eve Party
What they say:


Come and join us for a fun New years eve party, with fun party games, dancing, music
Can be booked on our website
9:30 to 11:30
12:30 to 2:30
Find out more and book here
Pantomime
Lots of pantos have a performance on New Year's Eve. Check out
the Christmas Theatre section
in this post to see what's on.
Allendale Tar Bar'l


Here's what they say:

"Swap the fireworks display for a fire festival this New Year's Eve with Allendale Tar Bar'l, one of Northumberland's most prominent traditions. 45 men, sporting colourful fancy dress and soot-covered faces, carry whiskey barrels filled with burning hot tar in a dazzling procession through the town.



Also known as the Tar Barl, Bah'l, Bahl, and Baal (as each spelling is a contraction of 'barrel') the Tar Bar'l is one of the most spectacular examples of fire festivals still practiced today.

In order to be involved in the procession, each man must have been born in the Allen Valleys and many have inherited their status from previous generations. This sizzling, sparkling ceremony has been celebrated for at least 160 years, though some believe it began in the Middle Ages.





Only men can become guisers, and only one woman has ever taken part in the tradition. Local lass Miss Vesta Peart was permitted to carry one of the barrels in the mid-1950s, as a thank you for creating a large number of costumes for the guisers. Many of these costumes are still worn today.



On the night, locals and visitors alike flock to the town for this night of revelry as music and dancing fill the streets. From 11pm, the crowds gather in the town centre to see the guisers called upon to do their duty. At 11:30pm, the torches are lit and the barrels ignited. Each guiser lifts the flaming barrels up onto the top of their heads and fall in behind the band.



At midnight, they arrive at the Bar'l fire in the town centre.
The barrels are then used to ignite this ceremonial bonfire, as everyone shouts "Be damned to he who throws last".
Find out more here